VISIT AN INDIGENOUS VILLAGE
HOW TO VISIT AN EMBERA VILLAGE? MY JOURNEY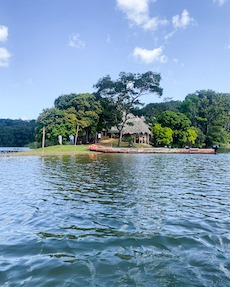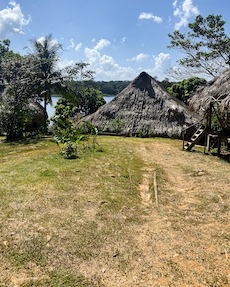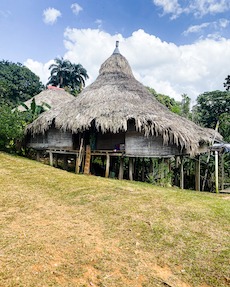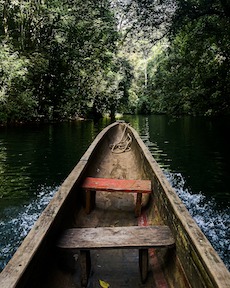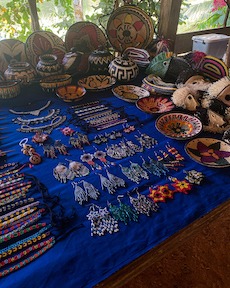 When we were in Panama City, we took a guided tour to Emberá Village with Panama Travel Unlimited. It's a village of natives who live from agriculture, the handicrafts they make, and also from tourism since 1984. There are 8 of them in the region. The village we visited has about 25 families, 75 people in all.
So we left around 7:30 am with the guide to go to the village. Before getting there we stopped at a fruit merchant. The guide told us that it's customary for us to offer fruit to the locals, which they'll prepare for later. It takes about 1h30 to travel to the entrance of the village. There, we're welcomed by the locals in traditional costume, aboard a long wooden boat. We embark to arrive in the village about ten minutes later. Personally, I was a little afraid of the voyeuristic side by going to this type of village. But in the end I didn't feel it at all. We could go chat with the locals and learn a little more about their way of life and their culture. With the language barrier it wasn't easy for me, but my friend speaking good Spanish, we were able to chat a little bit with them. There was a big main hut with tables and some handicrafts they make which we can buy. With the guide, we were able to walk around the village and see the residential huts from the outside. After a few minutes of free time, the locals took us by boat to a waterfall. Everyone goes there. The waterfall itself wasn't amazing, but the boat ride was very pretty. We then returned to the village for lunch. This takes place while a person from the village explains to us the origins of the village, as well as their customs and how they live. It was very interesting, and we could ask him all the questions we had. Afterwards, everyone gathers in the main hut to see a traditional dance demonstration. After some music, we're invited to dance with them. It's very nice ! Then we still have some time to shop if we wish, or get a temporary tattoo, before heading back to town.
Price of the excursion with guide, lunch, fruits: 120 US$
I won't lie to you that I was a little afraid of the voyeurism effect when visiting this village. I was ultimately pleasantly surprised. So yes there's a tourist side, but it's assumed, and it remains in respect with the locals. A great discovery.
We were there at the end of December and we had great weather.
| Jan | Feb | March | Apr | May | June | July | Aug | Sept | Oct | Nov | Dec |
| --- | --- | --- | --- | --- | --- | --- | --- | --- | --- | --- | --- |
| OK | OK | OK | OK | OK | | | | | OK | OK | OK |
It lasts a day. Tours usually depart from Panama City.
MY 3 TIPS TO VISIT AN EMBERA VILLAGE
Compare the different agencies before choosing one
I read that some people do it without agencies but honestly it's better with an agency to know where to go and have the right behavior towards the locals
Even though they're used to tourists, I've seen so many people doing voyeurism, or taking close pictures of people without asking them. Please respect them as you would respect anyone