WATERFALLS, PARKS AND BEACHES
WHAT TO DO IN MONTEZUMA? MY JOURNEY
Montezuma has a very cute little town center with restaurants, small shops, tour agencies. There's a good atmosphere and very relaxing. There isn't any bank in the city, you must plan enough cash beforehand. But don't worry for most activities or restaurants you can pay by card. There are also a few beaches including playa Montezuma where they release turtles according to the births they have had. Unlike the one we did in Puerto Escondido, this one is free, and you aren't sure to see it every day.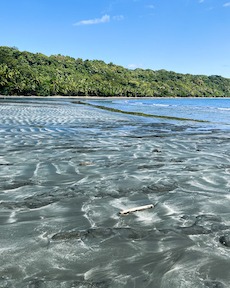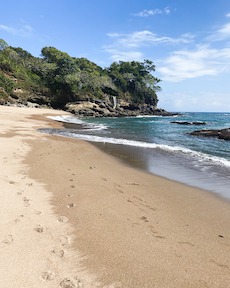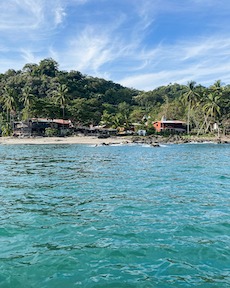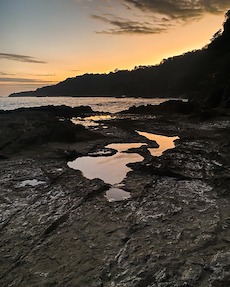 Natural pool in front of our hostel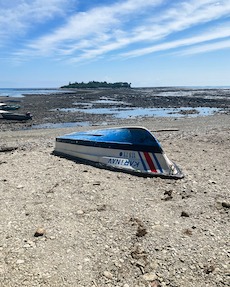 There are two more or less accessible waterfalls that we did.
The first is the El Chorro waterfall. To see it up close from the city center, you'll have to hike about 4 hours round trip, with very little elevation gain. But quite honestly it's easy! You pass through the forest and huge beaches completely deserted! My favorite is the beautiful Playa Cocalito! If you go there at low tide, you'll be able to see reflections in the wet sand, coconut palms on the edge of the beach. That's wonderful ! And at the end, we see the beautiful waterfall a few meters high, at the edge of a cliff. A waterfall by the beach is very different from what you would usually see. It's pretty! You can swim but be careful, it's super slippery to access the natural pools. To return, you go through the same path. I advise you to start the hike early (around 8 a.m.) to avoid the heat peak. Also bring plenty of water with you because there's nothing on the way. The beaches are deserted! That's what makes all the charm of the walk anyway.
The second is the Montezuma waterfall. It's located right next to the city center, count about twenty minutes from the entrance. Many people have told us about a free path and a paid one. Honestly we haven't seen anyone asking us for money. But check with your hostel or travelers to see which path is free. After a few meters from the entrance you've several small waterfalls. The path isn't very clear, at some point you'll have to cross the river to continue on the path, and sometimes hold ropes that are positioned near the rocks. Download the maps.me mobile application to help you on this path, and put on good shoes because the path can be slippery, and you've to step over a lot of roots. After 900m of walking (about twenty minutes), you come across this huge waterfall 24m high! It's very impressive and quite large. We were amazed to see such a large waterfall near the center. When we were there, there was a rope hanging from a tree that the locals used to jump. It's nice enough to swim in it and enjoy it for a good hour.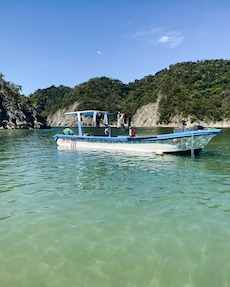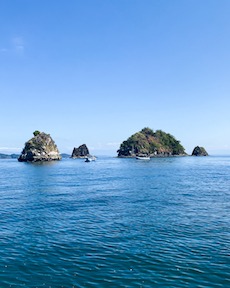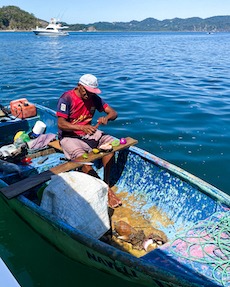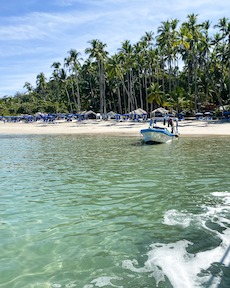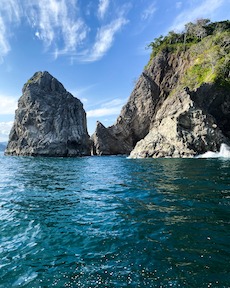 Montezuma has very beautiful beaches, but if you want to swim on a beach with transparent water, then you'll have to go to Isla Tortuga. For this, we've chosen to take the excursion in partnership with Cabo Blanco Travelers. Departure at 9.30 am on the beach in downtown Montezuma. After forty minutes by boat, we arrive near the magnificent turtle-shaped island with an incredibly beautiful beach. The boat and the guides let us snorkel independently near some rocks for about 45 minutes. The water wasn't very clear so we didn't see much to be honest. But we could see some blooming corals, it was super pretty. Then going back on the boat, the captain sees dolphins in the distance. He then decides to approach the boat so that we can see them more closely. It was amazing! They jumped with the waves of the boat, a magnificent natural show. We also saw a manta ray in the water! Then they see with us if we want to land on the beach or do another snorkeling spot. We had all decided to land to enjoy and relax on the beach. We ate a fish casado with our feet in the sand. Then we spent some time on the island. When we went, it was not yet the high season so there weren't too many people, it was good. It looks like all the boats are going to the same place. We took the boat back to be in Montezuma around 4 p.m.
Price of the excursion with guide, snorkeling equipment, transport, lunch and some drinks: 60 US $
CABO BLANCO ABSOLUTE NATURAL RESERVE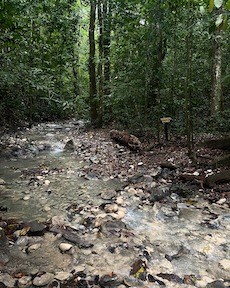 Cabo Blanco Natural Reserve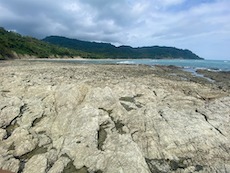 Cabo Blanco Natural Reserve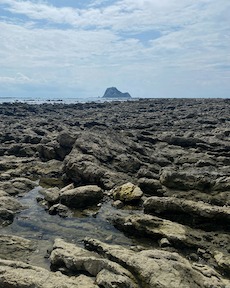 Cabo Blanco Natural Reserve
This national park was the first preserved park before the creation of national parks. It has been a protected area since 1963. And in this park you can see so many animals! As in most national parks in Costa Rica, we saw a few animals such as pelicans, iguanas, monkeys, and agoutis. There isn't much hiking in the park. To get there, you can take a bus. Ask your host for the bus schedules because it can change depending on the period you're there. With other travelers, we hitchhiked and it worked in a few minutes. I don't necessarily advise you to walk to the park because the trip isn't very interesting. Please note that the park is closed on Mondays and Tuesdays. Once there, you've a hike of 10km in all, to go back and forth to the main Cabo Blanco beach. There's little elevation but it's quite humid. We took about 4 hours in all, not counting the break on the beach. The hike's mainly in the jungle where you can see quite a lot of animals, to end on a beautiful beach. From there you can observe an island in the distance. It's quite pretty, a large beach with white sand at the foot of the jungle. It's a very nice national park, and frankly very different from what we've seen in Costa Rica.
For the more curious, next to the national park, there's the Cabuya cemetery which is actually a small island where there's only the cemetery. This island is accessible only during low tide, and this is the first time I have seen it. We visited it but it isn't a must in my opinion.
Entrance fee to Cabo Blanco Absolute Natural Reserve: 12 US$
Montezuma is a destination with a lot to offer. Between parks, beaches and waterfalls, we weren't bored. I really liked the atmosphere of this small town.
We were there in mid-November, and we had great weather.
| Jan | Feb | March | Apr | May | June | July | Aug | Sept | Oct | Nov | Dec |
| --- | --- | --- | --- | --- | --- | --- | --- | --- | --- | --- | --- |
| OK | OK | | | | | | | | | OK | OK |
Honestly it's a destination where it's possible to stay a good 5 days to explore everything well and rest a little. But if you're there only to discover the destination then I would say that 3 days minimum are sufficient.
WHERE TO SLEEP? MY ACCOMMODATION
LUMINOSA MONTEZUMA HOSTEL
Road to Cabuya, 100m after waterfall access, 50 meters Hacia Montezuma de la Soda Las Palmeras Montezuma,
Costa Rica, Distance from city centre: 2.4km, 60111 Montezuma, Costa Rica
Price: €11 / person / night in a mixed dormitory for 5 people.
Click here to book.
Very nice accommodation with sea view and a small natural swimming pool accessible from the hostel. Frankly I really liked this place, really cool!
MY 3 TIPS TO VISIT MONTEZUMA
Montezuma has a lot to offer, don't hesitate to stay there for several days
Sometimes the agencies do a discount when you pay in cash
There aren't ATM in the city, plan what you need before