THE PARADISE ISLANDS OF SAN BLAS
WHAT TO DO IN SAN BLAS ISLANDS? MY JOURNEY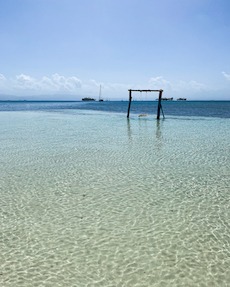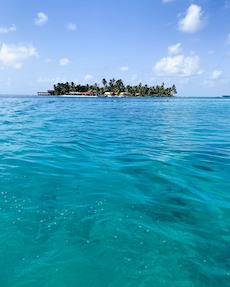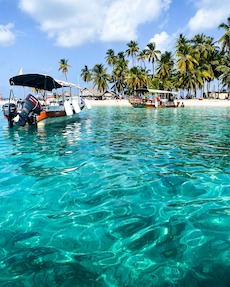 The San Blas Islands are the paradise islands of Panama which belong to the Gunas, open to tourism for about thirty years. To visit them, we booked with Panama Travel Unlimited. The agency picks us up from our accommodation in Panama City very early in the morning because we had a 3 hour drive ahead of us. Besides, the last part of the road is very winding and not really paved, hold on tight. Then, you go in a group to board on a small motor boat. We left for about another 1h20 by boat. The landscapes are magnificent, you see all the islets paraded around us. The archipelago has about 365 islands, of which about 49 are inhabited. We've been to Yani Island. A very beautiful little island. Transparent water, turquoise blue, white sand, coconut trees, a few houses, super nice locals. We had about 1h30 free on the island to enjoy it. It was amazing! Then they served us a typical lunch, fish with rice and salad. Then we went to a natural pool. Very clear shallow water. They lent us masks and snorkels to see the few fish and starfish. After staying for about 30 minutes, we went on Dog Island which has a shipwreck. We were able to take the masks and snorkels back to see this wreck. It was wonderful! We saw so many fish. And honestly, seeing a wreck in the water has always fascinated me. I find it very beautiful! On the island there's something to relax, a volleyball court, and a bar / restaurant. You can enjoy it for about 1h30. Then, back home, 4h15 drive to get back to our accommodation.
Price of the excursion with guide, transport, food: 115 US$
Price of entry to the San Blas Islands: 22 US$
It's true that the San Blas Islands are just beautiful! Transparent water, small islands everywhere, full of coconut trees. It's hard to believe. However, staying there one day isn't enough for the number of hours of transport that there is. Perhaps by staying several days there, you'll have another experience and can enjoy it much more.
We were there at the end of December and we had wonderful weather!
| Jan | Feb | March | Apr | May | June | July | Aug | Sept | Oct | Nov | Dec |
| --- | --- | --- | --- | --- | --- | --- | --- | --- | --- | --- | --- |
| OK | OK | | | | | | | | | | OK |
If you have the budget, why not stay there 3 days and 2 nights to completely disconnect. Otherwise in one day, the agencies will take you to the most famous places.
MY 3 TIPS TO VISIT SAN BLAS ISLANDS
Compare the different agencies and their offers before making your choice
If you have a bit of a budget, why not stay there for 2 or 3 days
Passport is mandatory to go there