WHAT TO DO IN PLACENCIA? MY JOURNEY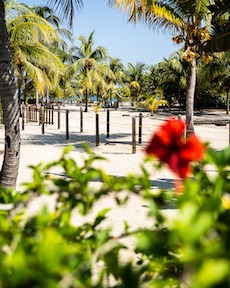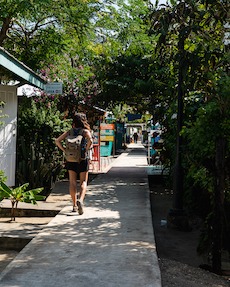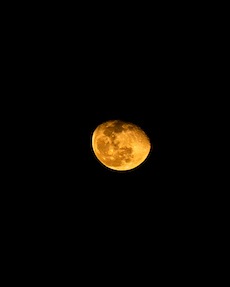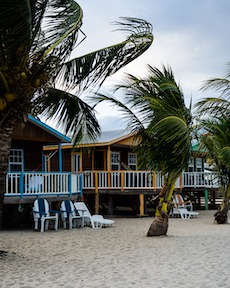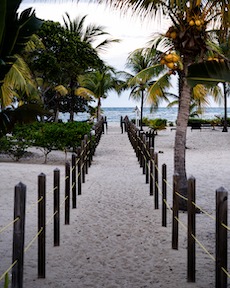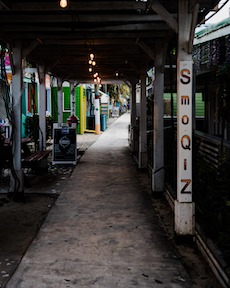 Placencia is an idyllic little village located on a peninsula. There's a main road with a large supermarket, a few shops and restaurants. But my favorite place in the village is the Placencia sidewalk, which is a fairly narrow pedestrian path where you can walk freely through hotels, small shops, a few restaurants. This path leads to the meeting point for the boat trips but also to the large city beach. It's very beautiful and colorful. I immediately fell in love with the place. The town is a little less touristy than Caye Caulker but it looked like it's easier to meet locals. If you want to see a beautiful sunset, there's the sunset point which is in a more touristic part of the peninsula. You can sit on the pontoon to admire the beautiful colors of the sunset.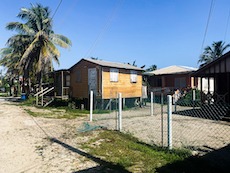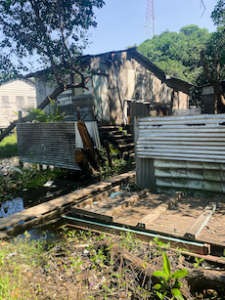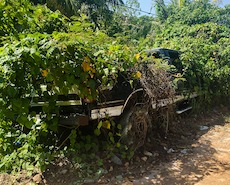 Not far from Placencia, you have the Garifuna village in Seine Bight. It's possible to go there by bus from the city center, it's about fifteen minutes of transport.
Once there, you're immersed in another environment. Houses on stilts not very well maintained, abandoned cars. There weren't many people on the street. We were there one morning and the village was very quiet. We went to a local restaurant on the main road, called Vern's Kitchen. Prices and menus aren't shown, but we ate one of the best dishes in the country, the Hudut. A fish in a coconut-based sauce (but doesn't taste that much coconut) with a scoop of plantain on the side. A real pleasure for only 15$ Belizean! Plan a short half-day to visit the village but no more.
Price of the round trip by bus: 5 $ Belizeans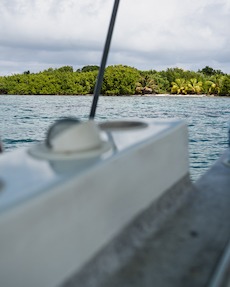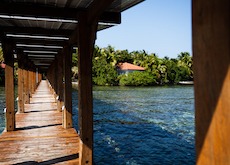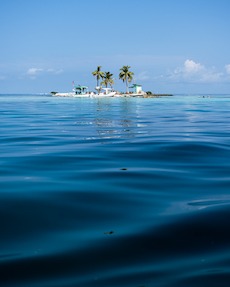 Island where we ate our lunch
As it's a city next to the sea, you have snorkeling excursions. And quite honestly for me it was one of the best I've done so far. And I'll tell you why.
For our excursion, we had chosen to do it with Ocean Motion Services. We had an appointment at 9 a.m. to test the equipment before heading to the pontoon to board a small boat. We were about 8 people with two guides. We left towards islands. On the way, the guides fished a huge barracuda that they served us cooked on the barbecue for lunch. We passed in front of small islands, each ones magnificent, until we arrived at ours. Several lunch tables, a few palm trees, and barbecue facilities, all on a tiny island in the middle of nowhere. It was just gorgeous! Frankly, having lunch in this idyllic setting is incredible. But before eating, we did an hour of snorkeling with the guide to see the corals and the different fish. It was super beautiful! And after eating a good fresh fish, we headed to a place for snorkeling. And there, I think it's one of my best memories in snorkeling that I've been able to do since now. We saw a huge turtle, nurse sharks, and 3 different types of rays! It was amazing to swim next to all these marine animals! Afterwards, we went to another resort-style island to settle down for a bit. On this island, there are several cabins, a bar / restaurant, a swimming pool, the beach (obviously), and even a waterslide. It was really good to be able to land on this type of island to see what it looks like, without necessarily having to pay a night to enjoy it. Then we came back to Placencia at around 3 p.m.
I really liked this excursion, it's really one of my favorite in terms of snorkeling excursion. I recommend without hesitation. The landscape is amazing, everything we saw was great, and the guides were really good.
Price of the excursion with guide, transport, lunch, equipment, drink (non-alcoholic): 100 $ Belizean.
Placencia was also a favorite, even after being in Caye Caulker. A place where you could stay there for several days without realizing it. We quickly get used to the rhythm of Placencia.
We went to Placencia around the beginning of November and the weather was wonderful. We had a day of heavy rain but we were leaving that day.
| Jan | Feb | March | Apr | May | June | July | Aug | Sept | Oct | Nov | Dec |
| --- | --- | --- | --- | --- | --- | --- | --- | --- | --- | --- | --- |
| OK | OK | OK | OK | OK | OK | | | | | OK | OK |
I would say that 3 days minimum are good to enjoy the place and do some excursions. If you have the chance, look to sleep on an island for several nights. It must be a crazy experience that we couldn't do because we didn't know it. 
WHERE TO SLEEP? MY ACCOMMODATION
ANDA DI HOWS HOSTEL
Jew Fish Lane,
Placencia, Belize
Price: €15 / person in a mixed dormitory of 10 people.
Click here to book.
A hostel a few meters from the beach, super nice. The owner's adorable and we had a great atmosphere in the dorm. I recommend without hesitation. Besides, there's a small kiosk that does take-out specialties for not too expensive right next door.
MY 3 TIPS TO VISIT PLACENCIA
Put down your suitcases and relax in this heavenly place
Look to spend a few nights on an island
Visit several agencies to compare prices and activities